HandyHeat supply advanced thermostats, developed and designed for electric floor heating. All thermostats are fully electronically controlled with high precision and reliability.
The thermostat is an essential part of a floor heating system and has the following features:
When choosing a thermostat for wooden floors, we recommend that you use a thermostat with a floor limiter. Then you ensure that the underfloor heating is as gentle on the wooden floor as possible.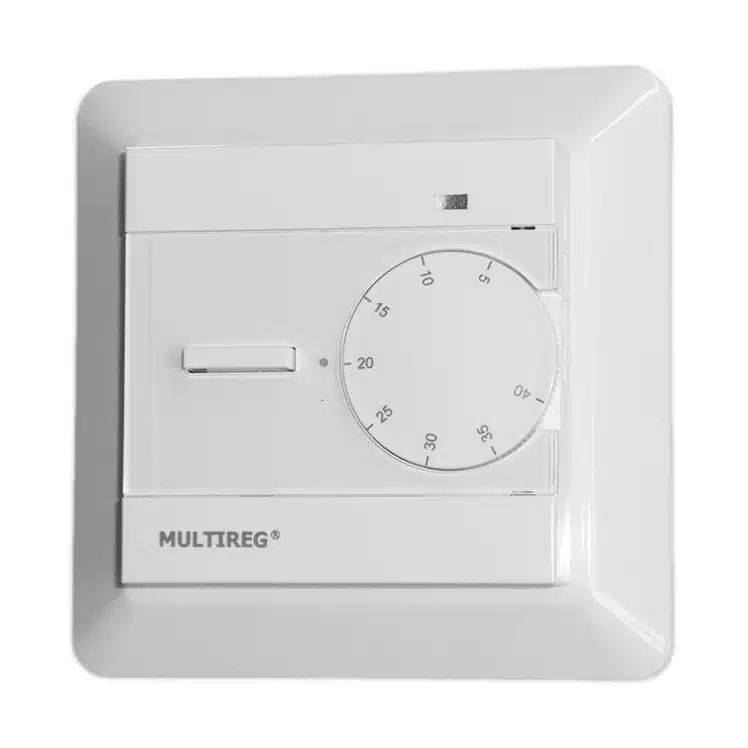 Remote control of heating from anywhere, anytime.
The discreet and timeless design of the touch screen means that it fits into the interior of a modern home.
The system is designed so that you always have full control over the heating, even if the internet connection is interrupted.
You always have access to programming options and functions via the built-in touchscreen.
The HandyHeat 922 thermostat is one of the most reliable and energy efficient thermostats on the market. HandyHeat 922 can control loads of up to 16 A.
You can choose between manual setting or program setting.
The large LCD display always shows the status of the room temperature, as well as whether it is set to manual or program setting.
HH-822-F Thermostat with simple, symmetrical, balanced, Scandinavian design and LCD screen technology.
Simple to use, yet a sophisticated thermostat that meets all modern requirements for energy savings and functionality - and is easy to use in everyday life.
Suitable for rooms with several heat sources, for example wood-burning stove, radiator or heating pump.
HandyHeat 270 is a fully programmable thermostat with touch screen. The large LCD display always shows the status of the program steps and make the program setting easy and clear.
HandyHeat 260 Thermostat with room and floor sensor
HandyHeat 230 Thermostat with floor sensor
Thermostat that fits into the FUGA frame system.
Thermostat dial for temperature selection and switch.
One of the most energy-efficient thermostats on the market. Includes large LCD display showing program status for weekly program.
HandyHeat 132 can control loads of up to 3500 watts. The large LCD display always shows the status of the program steps, and make program setting easy and clear.
Digital, programmable, intelligent and wall-mounted floor heating thermostat.
HandyHeat-132-AF
Room temperature control with limitation on the floor's minimum and maximum temperature
HandyHeat-132-A
Thermostat with waterproof covering
Temperature control of heating cables or frost protection cables. Wire temperature sensor included, 3 meters.
The thermostat covers all areas of use, both electric underfloor heating, frost protection, ice and snow melting. This ensures maximum comfort and minimal energy consumption.
The large backlit display provides a good view of the settings, even in the dark, where it can be difficult to read traditional thermostats without light. It is easy to operate with the three navigation buttons. Pressing one of the buttons switches on the backlight. It lights up for 30 seconds after the last activity.
Temperature settings
The thermostat can set the temperature from -19.5 to +70° C and can also function as a cooling thermostat.
The thermostat operates with an external wiring sensor.
Mounted on wall.
FLOOR SENSOR FOR HANDYHEAT THERMOSTAT
BOXES FOR HANDYHEAT THERMOSTATS
HandyHeat - DIN Rail mounted thermostats
HandyHeat has a wide range of DIN-Rail mounted thermostats. The selection covers underfloor heating, ice and snow melting, frost protection, gutters and runoffs as well as ice protection. Contact us to hear more.